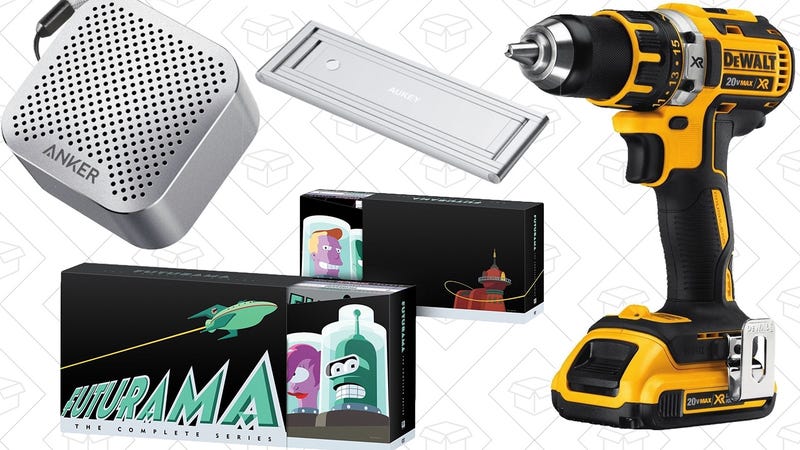 The complete Futurama box set, a popular DEWALT combo kit, and Anker's smallest Bluetooth speaker lead off Thursday's best deals.
Bookmark Kinja Deals and follow us on Twitter to never miss a deal.
Top Tech Deals
Anker's SoundCore is your favorite Bluetooth speaker, but if you need something a little more portable, they don't get much smaller than the SoundCore nano.
With a sole 3W driver and only four hours of battery life, the nano's not going to blow you away, but its aluminum construction looks fantastic, you can tie it to the outside of a bag, and it'll get the job done for quick listening sessions on the go.
---
External Bluetooth transmitters and receivers with 3.5mm jacks have been around for years, but Etekcity's new model raises the bar with support for optical (SPDIF) audio.
The little box can both receive and transmit Bluetooth signals, and includes SPDIF in and out ports to connect it to your TV or high-end audio equipment. Plus, it can even pair to two pairs of headphones simultaneously when transmitting, which would allow two people to, say, listen to the same TV over headphones to avoid waking up someone in the next room. Just be sure to use promo code 65ML8Y3V at checkout to save a few bucks.
---
Most laptops don't have CD drives anymore, which is mostly fine, except for that one time that inevitably pops up every year or two where you really wish you had one. Now, you can for just $21, no extra power cable required.
---
It's going to be a few years until all of our gadgets use USB-C exclusively, so in the meantime, you should probably pick up a few cable adapters. $6 today gets you a pair of microUSB to USB-C adapters, plus one USB 3.0 adapter.
---
Truly wireless earbuds were rare and expensive like, a couple months ago. Now they're practically falling off the boats from China, and you can get a set from Mpow for $33 with code BF9K9AVW.
These don't have many reviews yet, but Mpow has been making Bluetooth earbuds for a long time, and unlike some other truly wireless models we've seen, these do include a charging stand with a built-in battery (though oddly, not a charging case).
---
The best all-around SSD for most people is down to $134 for 500GB, the best price we've seen on this model. It'd obviously be a great upgrade over a spinning hard drive for your computer, but you could also stick it in an enclosure to create your own super-fast external drive.
---
Today only, Anker's discounting several popular cases and screen protectors for iPhones, iPads, and even the Nintendo Switch. There are too many products and promo codes to list here, but head over to this post to see them all.
---
If you still haven't tried out a home theater bias light, there's never been a better time to pick one up. Vansky's LED bias light strips plug directly into your TV's USB port for power, and stick to the back of the set via built-in adhesive. Once you turn your TV on, the LEDs cast a soft glow on the wall behind them, which can reduce eyestrain when watching in the dark, and improve your TV's perceived black levels.
Our readers have bought thousands of the 35.4" models, but now, you can opt for 80" strips for just a few bucks more. Rather than just stretching them across the top of your TV set, these can wrap all the way around, resulting in a fuller halo of light on the wall behind. You can also cut them to length, if 80" is a little too long.
---
Your favorite USB car charger just happens to be the smallest one you can buy, and you can grab it on Amazon for $7 today with code AUKECAR7. That's about as cheap as it ever gets, so pick one up if it's been on your wish list.
---
One day, we might get representatives in Washington that value their constituents' privacy over corporate profits, but until then, it's as good a time as any to sign up for a VPN service. Luckily, it costs less per month than a typical trip to Starbucks.
NordVPN has long been one of the most popular and reliable VPN providers out there, and if you sign up for a one-year membership, promo code VIP70 will drop your annual price from $69 to $48. If you're sure you want to commit, use this link instead to get a special two year plan for $72 with code 2YSpecial2017. Lifehacker has recommended Nord in some previous guides, but if you have any firsthand experience with the service, sound off in the comments!
Top Home Deals
Today only, Amazon's offering the best price ever on a near-perfectly reviewed DEWALT lithium-ion combo kit as part of a Gold Box deal.
$179 gets you a brushless impact driver, a drill/driver, a tool bag, and a pair of rechargeable batteries. That's still not exactly cheap, but it's $80 less than usual, and over $20 less than a Gold Box deal Amazon ran on it last year. But just remember that this deal is only available today, or until sold out, so don't get screwed.
---
I would have posted this raised garden kit earlier, but I was too busy jumping around the house with excitement about the confluence of its price and the day's date.
---
Just when you thought you'd seen it all in the world of desk lamps, Aukey's discounting one that folds up to fit in your pocket, and includes a battery to run for a few hours untethered from the wall. Just look at how many different ways you can set it up!
---
The Roomba 880 is a seriously powerful robotic vacuum, and a particularly great choice if you have pets, and Best Buy's taking a whopping $175 off today, the best deal we've ever seen.
If $425's's more than you want to spend, the entry-level Roomba 650 is also down to $289 on Amazon, which is as low as it's gotten outside of the holiday shopping season, when it dropped to $275.
---
I'm not sure I even own 20 pairs of pants, but it never hurts to plan for the future.
---
I'm not sure if a minimal, stainless steel cylinder is the most practical design for a rolling pin, but I think it's definitely the prettiest.
---
Yesterday, we shared that Belkin's WeMo Mini Smart Switch was on sale for $30, but TP-Link has blown that deal out of the water with a pair of discounts.
You can choose from the standard TP-Link Smart Plug for $18, or the functionally identical Mini model for $25, with the discount shown in cart. Those are both the best prices we've ever seen, and fantastic deals for anyone looking to dip their toes into home automation. These work almost exactly the same as WeMo switches, with the exception of their lack of IFTTT support.
Before you comment that the prices are wrong, let me reiterate one more time that you won't see the discount until you get to the checkout screen.
---
OxyLED's uber-popular T-02 motion-sensing night lights come in a lot of different varieties now, but today, you can get two of the originals for $15 with promo code KINJAOXY.
All you have to do is add two to your cart, and use that code to save $11. If you aren't familiar, these stick anywhere via an included adhesive magnetic strip, and sense both ambient light and motion to turn on when you need them, and save power when you don't.
Just note that this model runs on AAA batteries, so we recommend picking up some rechargeables if you don't already have them.
https://www.amazon.com/OxyLED-OxySense-T-02-Anywhere-Portable/dp/B00J4EQVPG?m=A2KV19AYUKS3X0&kinja_price=15&kinja_promocode=KINJAOXY
---
We see a lot of deals on solar-powered motion-sensing outdoor spotlights, but I don't think we've ever seen a 2-pack for under $10. This isn't a brand we post very often, but it seems basically identical to similar lights we've seen.
---
Sometimes, a normal water bottle just isn't enough. This vacuum-insulated vessel from RTIC holds 64 ounces of your favorite fluid, be it water, coffee, or beer from your local tap house, and keeps it cold for up to 24 hours, or hot for six.
I own RTIC can koozies and a tumbler, and their temperature regulation is nothing short of magical, so the bigger the better, as far as I'm concerned. $18 is within $1 of an all-time low price, so grab yours before this deal runs dry.
Top Lifestyle Deals
Reach a higher plane of thought when it comes to skincare with The Body Shop's two deals for 4/20. Not only will you get 42.0% off your entire purchase, you'll also get a cheeky 4-for-$20 discount on hemp products. Is it a little on the nose? Definitely. Is it too corny to take part in? Heck no.
All the discounts will show up when you add your items to your cart; there's no promo code needed. The Body Shop is making it as simple as possible for those that are (ahem) celebrating.
---
I've sworn by the Dove White bar soap since I was young (who says millennials hate bar soap??) and their cucumber body wash is also pretty great. Right now, use the code DOVE20 at Jet.com and get 20% off any Dove purchase. I highly recommend stocking up with these prices.
---
I'm just going to kick off this post by sharing this product's Amazon description.
ARE YOU A HAIRY APE?

No problem. Guys feel confident shirtless after using OXA Back Shaver. So, if you have "patchy" or "spotty" patches of hair on your back or body or if you are so hairy that you are often mistaken for being a "hairy ape" there is no job too great for the OXA Back Shaver.
I don't think back hair is why most men feel uncomfortable shirtless, but I digress.
This product looks very similar to the BaKlade, which we've written about before. It doesn't have many reviews to go off of, but it's 1/3 the price of the name brand with promo code XCVGCZG9 so it might be worth checking out if you're a HAIRY APE.
Another Gizmodo Media Group staff member (who shall remain nameless, but speculate away) bought this earlier in the month, and reports that it "does the job."
---
Dorco continues shaving the prices on their already-affordable razors, and you can get a Pace 6 Plus handle plus 10 cartridges for $13, plus free shipping. Just be sure to use promo code KINJA419 at checkout to get the deal.
---
Amazon's back at it again with the sample box deals, and this time, $10 gets you six sample-sized (i.e. airline-friendly) men's grooming items, plus a $10 credit towards dozens of full-sized items from this list. Assuming you use the credit, that's like getting all of the samples for free.
---
The Bouqs is probably the best place to use when sending flowers right now. The bouquets are unique and the blooms are harvested from the side of a freakin' volcano. And right now, save 30% on select Mother's Day blooms (without the vase), and forget about the whole ordering flowers last minutes thing. Use the code MOM30 at checkout to save.
FYI: The promo is only valid for new customers, and only works if you set your delivery date between 5/9 and 5/11 and if you don't add a vase.
---
This $20 shiatsu massage pillow includes four rotating massage nodes and infrared heating to knead your aching muscles. It even comes with a car adapter to ease tension during long road trips, or just on your commute home after a tough day in the office.
---
Amazon's back at it again with the sample box deals. This time around, $10 gets you 8+ protein products, plus a $10 credit on your next protein purchase from Amazon. If you were going to buy any of these products anyway, then this is a no-brainer.
Top Media Deals
Unfortunately, it isn't a Blu-ray, but the complete Futurama box set has never been this cheap before. It's a Gold Box deal though, so grab it quick before it sells out.
---
The ultimate gift for the James Bond fan in your life is down to an all-time low price today. An all-time low $75 gets you all 24 films on Blu-ray, including Spectre (previous box sets didn't include it). So get ready to shake yourself a vodka martini, and settle in for a holiday marathon.
Top Gaming Deals
Pandemic Legacy is a co-op board game that raises the stakes by adding permanent (actually permanent) changes to the board as you play, and it's amazing. It also happens to be marked down to $39 on Amazon today, within a couple bucks of an all-time low.
Note: Both of these products are the same game, just with different color schemes, allowing you to keep two games going at once without getting confused.
---
If you need an extra controller for your Xbox One, here's a chance to pick one up for $39, which is about as cheap as they ever get.
The Xbox One S gamepad improves on the original with a textured grip, double the range, and most importantly, Bluetooth, meaning you can connect it to your PC without an adapter.
---
It ships from China with a delivery window that encompasses most of May, but here's your chance to get one of those addictive fidget spinner toys for just $2.
---
Prime members can preorder and save 20% on Mario Kart 8 Deluxe for their Nintendo Switch, which isn't unusual (that benefit applies to all preorder and new release games), but if recent history is any indication, they could very well sell out of copies prior to launch. As always, you won't see the discount until checkout.
Tech
Storage
Power
Audio
Home Theater
Computers & Accessories
PC Parts
Mobile Devices
Photography
Home
Kitchen
Tools & Auto
Lifestyle
Apparel
Beauty & Grooming
Camping & Outdoors
Media
Movies & TV
Books
Gaming
Peripherals
PC
PlayStation 4
Xbox One
Wii U
Toys
from Kotaku http://deals.kinja.com/todays-best-deals-futurama-dewalt-tools-tiny-anker-s-1794489550